Marcegaglia Casalmaggiore
TYPICAL APPLICATIONS
With a dedicated production for the automotive sector, Marcegaglia is the supplier of choice for carmakers and OEM manufacturers of structural parts, components and interior details.
Tubes for automotive applications and auto partsAxles for vehicles and industrial vehiclesTubes for dump trucksStabilizersSteering systems
Tubes for pressure purposes include applications for the heat exchanger industry, heating and ventilation, gas and water line pipes, district heating tubes.
Tubes for district heatingTubes for heat exchangersTubes for steel structural workTubes for pilingRoller conveyor tubesTubes suitable for drawing Tubes for lifting equipment
Marcegaglia has developed a unique know-how in the manufacturing of precision tubes to meet the strict dimensional and surface specifications required by manufacturers in several mechanical engineering sectors.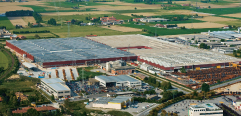 MARCEGAGLIA Casalmaggiore